Cargo theft affects businesses across the globe. Beyond the direct cost of the stolen goods, missing cargo can have far-reaching supply chain implications. Threats to your company's cargo can vary by commodity type, region and even day of the week. Understanding your product's susceptibility to theft and developing appropriate strategies to reduce it can help protect your cargo and your business.
"Education is paramount to combatting cargo theft," says DZ Patterson, a Travelers Investigative Services professional. "Once companies are aware of the cargo theft problem, they can implement behavioral and procedural changes and the use of hard controls, including locks and electronic controls, to harden the supply chain," adds Patterson. Travelers' Special Investigations Group even goes the extra distance by assisting law enforcement. Sting Trailer, an industry-leading tool created by Travelers, is a tool deployed in concert with law enforcement that so far has resulted in several arrests and prosecution of criminals.
While headlines have focused on the theft of pharmaceuticals and electronics, since 2010, food and drinks are the product type most often stolen, accounting for 24 percent of reported cargo theft in the United States in 2015.* The lack of unique serial numbers makes it easier for thieves to sell food and drinks on the illicit market than more protected products.
Generally, the goal of cargo theft criminals is to make a fast buck without getting caught, which means even some of the most mundane products can be targeted for theft. For instance, a load of diapers could be a target because it can be sold easily to small businesses or directly within many communities right from the back of the truck. For this reason, it is important shippers understand how the cargo will travel from point A to point B; in some cases, the less costly path may cost you more in the end.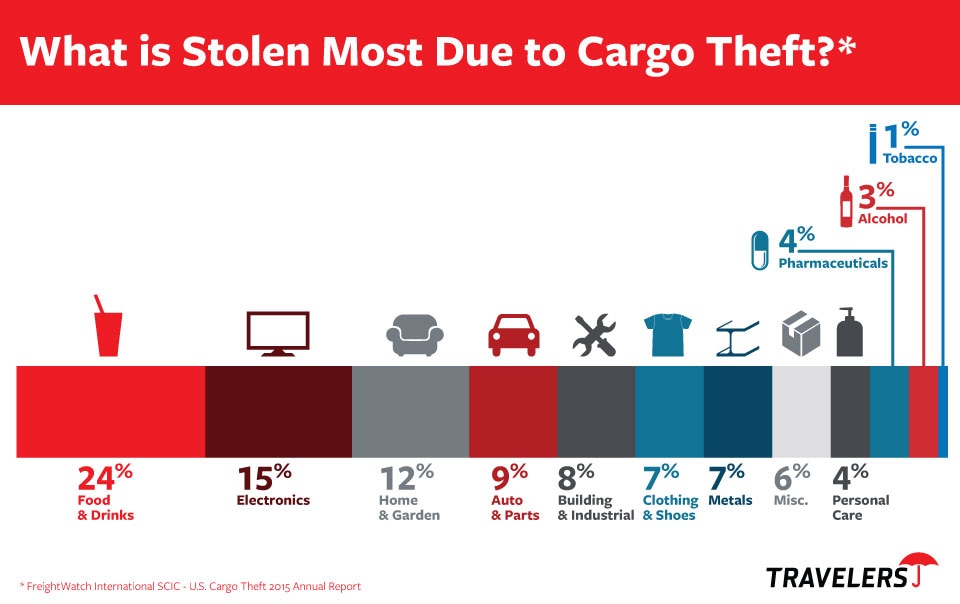 Cargo thieves' tactics vary greatly around the world. Poor infrastructure and roadways, lax port security and lacking telecommunications to support tracking devices can serve as choke points where criminals can observe and target cargo moving through their areas. In the United States, many criminal groups take advantage of standard two-day and long holiday weekends, knowing that stationary cargo* will be less-protected and giving them more time to transfer the goods to another trailer, eventually hiding it away or even selling it before law enforcement is notified.
On the high seas, piracy still exists. In some instances, entire ships are being diverted and ransacked. In certain parts of the world, law enforcement may not be available or able to respond if notified of an active theft. Having alternative plans and strategies in place can significantly improve your ability to avoid losses and possibly recover your goods.
A few starting points when evaluating the theft potential for goods in transit are:
Understand how your cargo will travel—both type of conveyance and the actual route it will take.
Develop routes in which cargo can avoid 'known' high-crime areas.
If shipping in higher-crime areas is unavoidable, consider the timing of your shipments. Ask local law enforcement if it has any data showing when cargo crime is most active in these areas and try to structure your operations around these times. Travelers is also building a route analysis tool to explore risks for customers.
Consider equipping high-value loads with tracking equipment. Consult with reputable vendors familiar with the threat of cargo thefts to help determine the type of devices and their best installation and use for your threats.
Enforce a high standard within your operations. Require that trailer kingpins have suitable locks installed whenever they are loaded and not attached to a tractor; keep your facilities well-lighted with maintained fence lines; and pay special attention to loaded trailers, ensuring they are receiving the highest levels of protection possible at your sites.
The first 200 miles from the pickup point is sometimes referred to as "The Red Zone." Requiring all loads to travel at least 200 miles before the first stop can be effective in deterring thieves who follow a loaded trailer from pick up and then attempt a hijacking when it makes its first stop. It also is good practice to avoid dropping a trailer at an unattended location. Shippers can incorporate these requirements, as well as others, within their freight contracts with carriers to increase their responsibility to pay should a loss occur.
As a shipper, it is critical to understand where in the process of moving your goods your responsibility and exposure begins and ensure proper steps are taken to protect your cargo. In most cases, shippers will rely upon contracted third parties. Some questions to consider:
Are third-party logistics providers arranging carriers who implement the proper theft controls for the level of theft exposure at all points of the supply chain? It is a good practice to verify the identity of arranged carriers.
Are enhanced measures to protect your cargo required/necessary and are the transportation service providers experienced and capable to coordinate these properly?
Is it necessary to consider additional support beyond the logistics providers?
Is external packaging visible during shipment as generic as possible to avoid telegraphing any valuable contents?
Is the information contained within shipping documents such as commercial invoices, bills of lading and packing lists treated carefully? This information in the wrong hands may assist criminals in targeting your goods.
Are Electronic Freight Security (EFS) strategies in use and regularly reviewed for improvement? EFS is a continually evolving, global, end-to-end strategy, leveraging the most current technology and intelligence on theft threats. It is important to stay up to date on current trends and techniques to stay ahead of criminals.
Your suppliers also may be vulnerable to cargo theft. Many companies rely upon unique suppliers for critical components used in their processes and services. Taking time to examine these critical suppliers' cargo theft threats and protection strategies closely, especially for suppliers of hard-to-replace components and materials, can be critically important in protecting your business against cargo theft interruptions. Joining an organization dedicated to sharing cargo theft trends, such as the Transported Asset Protection Association, or TAPA, or other similar Industry-led organizations can help connect you to cargo challenges facing your industry.
Sources:
*FreightWatch International, U.S. Cargo Theft 2015 Annual Report.