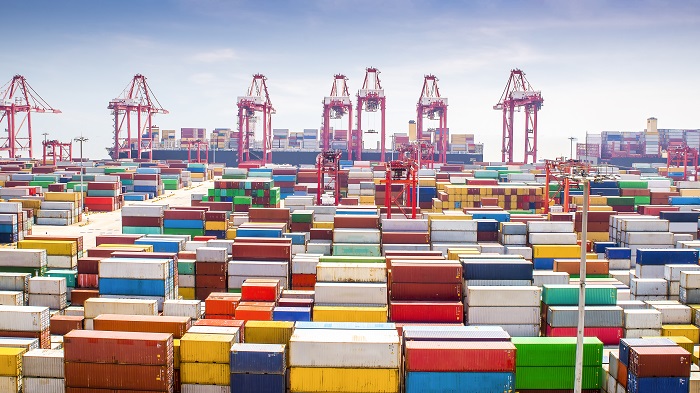 The Trump administration itself is split on the effectiveness of the tariffs, and, unlike Congress, the president "cares less about data," so businesses should go directly to Congress with their concerns, the trade executive said. Photo credit: Shutterstock.com.
U.S. companies must tell Congress how damaging the Trump administration's proposed 25 percent tariffs on imports from China will be to their businesses because going directly to the president probably will not be effective, an industry expert on China said Saturday.
"Your stories can make a difference," Erin Ennis, vice-president of the US-China Business Council, told the Western Cargo Conference of freight forwarders and customs brokers. The administration itself is split on the effectiveness of the tariffs, and, unlike Congress, the president "cares less about data," so businesses should go directly to Congress with their concerns, she said.
The existing Section 301 tariffs of 10 percent on about 1,300 product classifications are already causing prices on some consumer goods and manufacturing inputs to rise, but the strengthening dollar and weakening yuan are offsetting the duties to a degree. (The dollar traded Monday at 6.94 yuan to the dollar – stronger than the 6.30 yuan rate in March 2018.) However, most businesses will be unable to offset or absorb the proposed increase to 25 percent scheduled to take effect on Jan. 1, she said.
Although the import duties totaling $267 billion are ostensibly intended to make China back off on its unfair trade practices, such as forcing US companies to transfer technology to China as a condition for doing business there, there is no clearly stated end game. "Maybe the tariffs themselves are the goal," she said.
The president seems to be receiving contradictory advice from within his own administration, with one camp urging him not to move forward with the 25 percent duties. A second faction is saying "we're okay with higher prices," if the tariffs lead to a demonstrable change in China's trade policy, she said.
In a global economy, China has non-US trade options
In a global economy, if China finds US tariffs to be too onerous, they will simply ramp up their trade ties with countries they find to be more reliable. "You can't do it unilaterally. Europe and Japan look much better today because they are reliable and we're not," she said.
Despite attempts by cabinet-level officials to negotiate agreements, China is wary that the president even listens to them. Ennis noted how Commerce Secretary Wilbur Ross earlier this year thought he had reached a deal with China on steel, but the president rejected it. The risk to China is no matter what it agrees to, Trump will reject the deal, she said.
None of this bodes well for his meeting scheduled for Nov. 29 with China President Xi Jinping at the G-20 summit in Buenos Aires, Ennis said. "There is no one policy in Washington on China," she said.
Paul Bingham, economic consultant with Hackett Associates, said it can be argued that the continuing trade war could be counter-productive to the administration's efforts to reduce the trade deficit with China. Economic growth in China is slowing to about 6.5 percent because of an aging population and the government's attempts to reduce debt. If the yuan continues to weaken while the dollar strengthens, Chinese products will be cheaper for Americans to purchase, somewhat offsetting the impact of the tariffs.
Furthermore, the growing middle class in China and elsewhere in Asia will provide increased opportunities for US exports, but China's retaliatory actions due to US tariffs on its goods could result in exports from other countries being more competitive in China, Bingham said.
Trading with China has always been challenging, Ennis said, because the country is so large that its leaders feel they should be able to do what they want to do. However, that does not mean that China is impossible to negotiate with, especially if some issues that are important to the US are also in China's self interest to pursue. As China moves from being a low-cost assembler of goods to a developer of technology, Chinese leaders should find that it is in the country's interest to protect its intellectual property. Therefore, hard-liners in the Trump administration who see negotiations as a sign of weakness may be wrong. "I think talk gets a bad rap," she said.
Ennis urged US business leaders to approach Congress "preferably before Jan. 1," although she said no assurances can be given in the current environment in Washington. "Tell your stories, but prepare for the worst," she said.
Source: https://www.joc.com/regulation-policy/trade-policy/united-states-trade-policy/bcos-urged-pressure-congress-tariffs_20181022.html?utm_source=Eloqua&utm_medium=email&utm_campaign=CL_JOC_Daily_10-23-2018%20TF%206%3A05am_PC9156_e-production_E-18887_JL_1023_0605