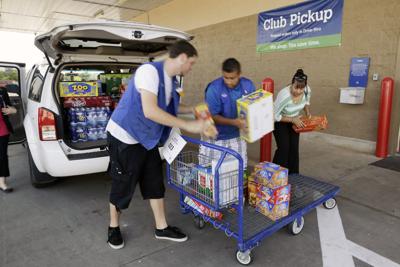 Warehouse clubs, purveyors of off-price denim and massive tubs of mayonnaise, aren't usually on the cutting edge of retail. Walmart's Sam's Club wants to prove otherwise.
The retailer is opening a test store in Dallas called Sam's Club Now, where shoppers will make all their purchases on their smartphones, which they'll also use to build shopping lists and navigate around the store. The location, which at just 32,000 square feet is a quarter the size of an average Sam's Club, will also feature electronic shelf labels that instantly update prices and augmented reality displays that can transform digital shopping carts into pirate ships.
"There won't be another club like it," Jamie Iannone, Chief Executive Officer of Sam's Club's online division, said in a blog post.
The store, which will also serve as a lab to test out other new ideas, shows how Walmart is putting more investment dollars behind its warehouse club chain, which historically has played second fiddle to Costco Wholesale Corp. Under Chief Executive Officer John Furner, Sam's Club has grown sales by improving its fresh food offering, consolidating its private label products under one banner and simplifying the member-signup process.
Source: https://www.stltoday.com/business/local/walmart-s-warehouse-chain-tries-to-get-high-tech-with/article_ca450b9a-7467-5b7b-8f51-31c5173c06bf.html