Detroit has been hit particularly hard by COVID-19. In times like these, communities, companies and families must band together to support each other.
On March 23, the Governor of Michigan announced an executive order to close all non-essential businesses in order to suppress the spread of COVID-19. However, as a third-party logistics and transportation provider, Evan Distribution Systems was deemed an essential business and continued to operate.
In doing so, Evans had to swiftly adopt new processes and policies to address operating in the midst of a pandemic. This included stringent sanitation practices, social distancing, work-from-home and sick-leave policies, questionnaires, temperature checks, and more. In knowing that mid-April would be characterized as a critical point in the virus lifecycle, Evans stepped up once again to protect employees, customers, partners, and other businesses from Coronavirus.
Sourcing Quality Masks
"We knew right away that we should have face masks, but we didn't know where to get them," says John Evans, president & CEO of Evans Distribution Systems. Many of the online sources had low stock and shipment delays, there was a challenge procuring a quality mask. First, we tried to make masks using left over material that was readily available. But the quality was not ideal.
Pat LaFave, CFO of Evans Distribution Systems, came across Great Lakes Sewing Company, a contract sewing company that provides custom products and prototypes to small businesses. The company was nearly about to shut down due to the executive order which did not deem it an essential business. "She (the owner) was preparing to close her doors temporarily before we called," says Evans.
Evans promptly brought the company back to life with an order for 300 masks. The handmade Lycra masks were high quality, durable and comfortable. The stretch material fit a variety of faces and is easy to wear while working. "We especially liked that they could withstand long term wear from our employees who may be using these for several months," Evans says.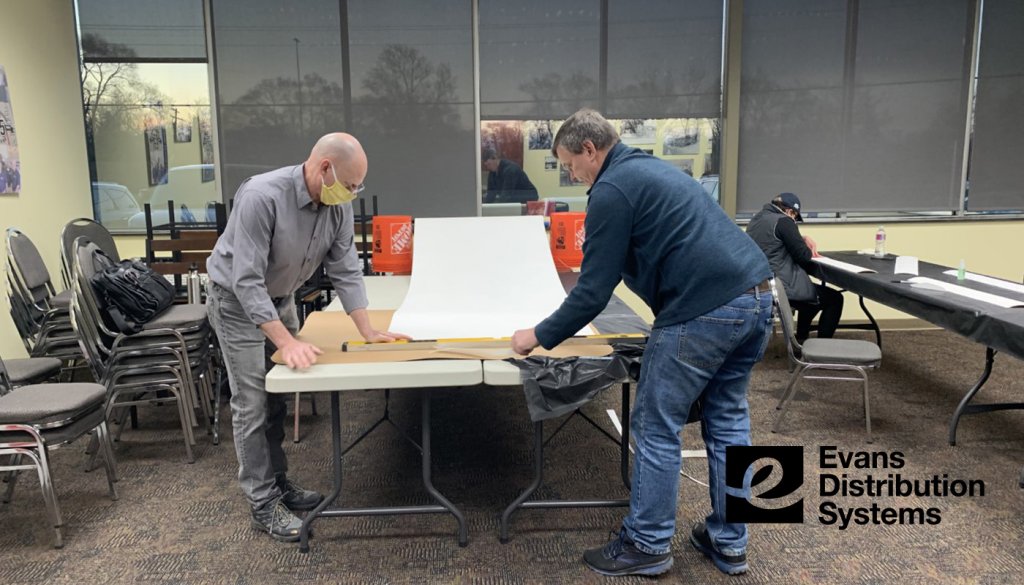 Another Layer of Protection
Another benefit of working with Great Lakes was we were able to design exactly what we desired. One option was to have a double-sided mask with an opening on the side to slide a filter inside the mask.  This went beyond the CDC's recommendation for a face covering, but could be valuable to keeping our employees healthy and safe.
It just so happened that an Evans customer, Robovent, supplied commercial filters. These industrial strength filters were much more than what was needed for our masks. But they had a Merv 15 filter that was also flexible enough to wear over the face.
It wasn't long before the entire leadership team at Evans was hard at work cutting out filters to insert inside the employee masks. This optional feature adds another layer of protection to the masks. The filters are a one-time use and highly effective in trapping unwanted bacteria from flowing in or out of the mask.
"We also were able to utilize a customer's product to enhance our masks and ultimately, protect our employees," says Evans.
There's no doubt that the pandemic has brought tragedy to our lives. We will feel its aftershocks for a long time. But this humbling experience has given us a newfound resilience and strength. We revitalized a struggling company, we reciprocated support for a customer's business, and we came together as the Evans family to protect the health of our people. All in all, a win-win-win for everyone in the face of a crisis.